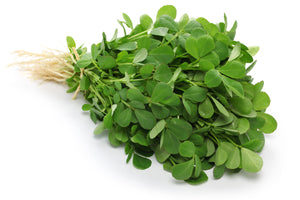 Description: Our all-natural Fenugreek Hair Mask soothes dry scalp, minimizes shedding, and stimulates follicles. Fenugreek, long used in ancient medicines, is known for its restorative, healing properties. Your hair will be longer, stronger, and healthier. 
Directions:
Apply to damp hair from root to tip, focusing on ends. Use once weekly. Can be used with or without heat.

Ingredients: Water( Infused with Aloe Vera Juice, Bamboo tea, Honey, Molasses, Fenugreek, Marshmallow Root) BTMS, Sunflower Oil, Mustard Seed Oil, Aloe Vera Oil, Caprylic Triglycerides, Shea Butter, Stearyl Alcohol, Fragrance, Phenoxyethanol (and) Ethylhexylglycerin.