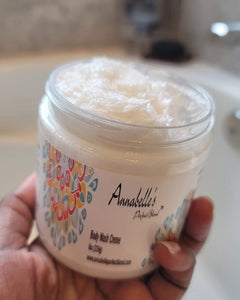 Description: Our homemade whipped, moisturizing cleansing creme gently cleanses your skin without stripping it. Your skin will be fresh, hydrated, and clean.
Description: Scoop out a generous amount of Body Cleansing Creme into a washcloth or loofah, rub in a circular motion on your skin. Rinse well. For best results, follow with your favorite Annabelle's Perfect Blend body moisturizer. 

Ingredients: Sodium Cocoyl Isethionate (SCI), Vegetable Glycerin, Cocamidopropyl Betaine, Aqua (Water), Stearic Acid, Butyrospermum Parkii (Shea) Butter, Cocos Nucifera (Coconut) Oil, Fragrance, Phenoxyethanol (and) Ethylhexylglycerin.